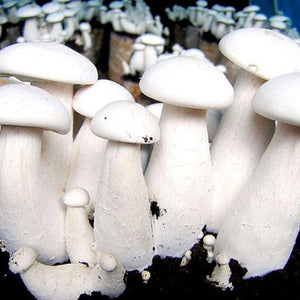 The Giant Milky (Calocybe indica) is a beautiful, edible mushroom from tropical climates grown in India, Vietnam and equatorial regions year-round. This gourmet and medicinal species can be grown in temperate climates for a few months out of the year either outdoors or in greenhouses to extend the warm season.

"With a preferred fruiting temperature window of 80-105F, the Giant Milky is the perfect solution for hot, summertime fruiting when all other mushrooms struggle during the intense heat. A thick, meaty mushroom, the flavor and texture is much like that of scallops, and the entire stem is edible."
Well worth the effort and easy to grow, with a process much like that of growing oyster mushrooms on straw, it typically fruits in about 30-45 days on cased, pasteurized wheat straw in open topped bags, buckets or nursery pots.
For detailed instructions on how to grow the Giant Milky, please visit out blog: Growing the Giant Milky - Calocybe indica
******
Edibility and taste: Edible and good, tastes like scallops 
Grows on: Wheat straw
Fruiting Temps: 80-105F
Availability: May-Sept