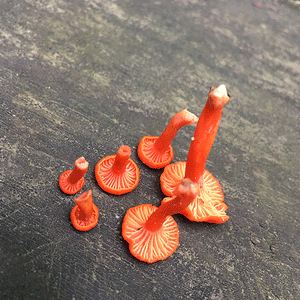 This 5 year mushroom foraging permit meets the criteria required by the state health departments and formally approved for the foraging and selling of wild mushrooms in the following states: South Carolina, North Carolina, Georgia, Alabama, Virginia, West Virginia, Pennsylvania, New York, Rhode Island. Signups will receive a study guide and slides 1 month ahead of the class.
Limited to 40 people, and no refunds will be available for this event. We might be able to move you to another class in case of emergency.
Where: The Summit Environmental Education and Conference Center at the Haw River State Park, 339 Conference Center Dr., Browns Summit, NC, 27214
Accomodations: You can stay at the park, The Summit offers full-service dining and lodging in motels and cabins, but please book early, or click here for other accommodations

About Haw River State Park: Located in Guilford and Rockingham counties 15 miles north of Greensboro, Haw River State Park is a unique park that centers on The Summit, a residential environmental education and conference center, accommodating retreats and conferences for groups big or small. The park is also perfect for day-use visitors looking to explore the headwaters of the Haw River. Trails and a boardwalk offer a journey into wetlands and a floodplain swamp, where visitors may see great blue herons and a bounty of other animals. 
When: August 5-6, 2023, Saturday-Sunday 9am-5pm
Taught personally by Stesha Warren. 
Stesha fell in love with the forest as a child growing up the North Carolina mountains. Raised with a horticultural background, she is a herbalist with a focus on women's health. Her love of the forest, fungi, simplicity and nutrition has led to over 20 years of foraging experience. She and her husband own and operate Eliana's Garden LLC in Stoneville, North Carolina. Her business is primarily focused on medicinal and culinary forest crops with an emphasis on species awareness and preservation of native botanicals. As a licensed nationwide nursery they offer these special native and permaculture plants for sale and preservation education. You can learn more about Eliana's Garden at www.elianasgarden.com
Stesha also owns and operates Eliana's Canna, LLC. She works with NC hemp producers to create quality products for her brand as well as private labeling for many others. You can learn more about Eliana's Canna at www.elianascanna.com 
She cultivates a selection of outdoor mushrooms, fungi value added products, herbal products and sells her elderberry syrup nationwide. Stesha has a passion for fungi, sustainable agriculture and community. She hopes to educate her community on the value of plants and fungi around them. With a Bachelor of Science in Agricultural Education and a love for the outdoors she develops and teaches a monthly foraging series at Rockingham Community College, classes on mushroom production, foraging, forest farming, and homesteading skills at their farm, and is proud to be an approved instructor for Mushroom Mountain teaching wild mushroom safety and identification classes. She is the Chair for the Agricultural Advisory Board and a member of the Pollution Prevention Advisory Board for Rockingham county. She is the secretary to the environmental non-profit Good Stewards and on multiple committees for the American Herbal Product Association. In her spare time she enjoys spending time in the forest with her husband and two young children, spinning fiber, photograph and creating wild crafted culinary delights.
This permit may be valid in other states that have adopted a Code 13 policy, your state will need to contact us to evaluate and approve this permit for your state's food safety authority. 
According to state law, wild foraged mushrooms species must be individually inspected and found to be safe by an approved mushroom identification expert that: 
(A) Has met the requirements of knowledge and passed an exam and 
(B) Will harvest only those mushrooms species listed below (Check the Approved Species List for your state's allowed species): 
Chanterelles (Cantharellus spp. Exception C. persicinus)

Blue chanterelle (Polyozellus multiplex)

Morels (Morchella spp.)

Black trumpet (Craterellus fallax)

Lobster (Hypomyces lactifluorum)

Wood ears (Auricularia spp.)

Chicken of the woods (Laetiporus spp. Exception L. persicinus)

Beefsteak (Fistulina hepatica)

Hedgehog (Hydnum repandum, H. albomagnum)

Lions mane / Pom Pom / Bearded tooth / Bear's head (Hericium spp.)

Oyster mushroom (Pleurotus spp. Exception Pleurotus levis, P. dryinus)

Cauliflower (Sparassis spp.)

Maitake / Hen of the woods (Grifola frondosa)

Blewit (Lepista nuda)

Honey mushroom (Armillaria mellea, A. tabescens)

Blue milky (Lactarius indigo)

Golden and burgundy milkies (Lactarius corrugis, L.volemus, L. hygrophoroides)

Pecan truffle (Tuber spp.)

Puffballs (Lycoperdon spp., Calvatia spp.)

Bolete species: King bolete / Cep / Porcini (Boletus edulis, B. chippewaensis)

Chaga (Inonotus obliquus)

Reishi mushrooms (Ganoderma curtisii, G. tsugae, G. sessile)

Turkey tail (Trametes versicolor)

Matsutake (Tricholoma magnivelare)

Shaggy mane (Coprinus comatus)

Candycap mushroom (Lactarius rubidus, L. fragilis, L. camphoratus)

Saffron milky (Lactarius deliciosus)

Hawk's wing (Sarcodon imbricatus)

Enoki (Flammulina velutipes)

Shrimp Russula (Russula xerampelina)

Umbrella Polypore (Cladomeris umbellata)

Green Quilted Russula (Russula virescens, Russula parvovirescens, Russula crustosa)